Setup
Once you have determined which of the two companies you will be working with return to the setup screen in your Frazer and enter the important identifying information on the processing partners tab. Typically this information is sent from that company in the form of an email.
Repay (Formerly Paymaxx Pro) system options: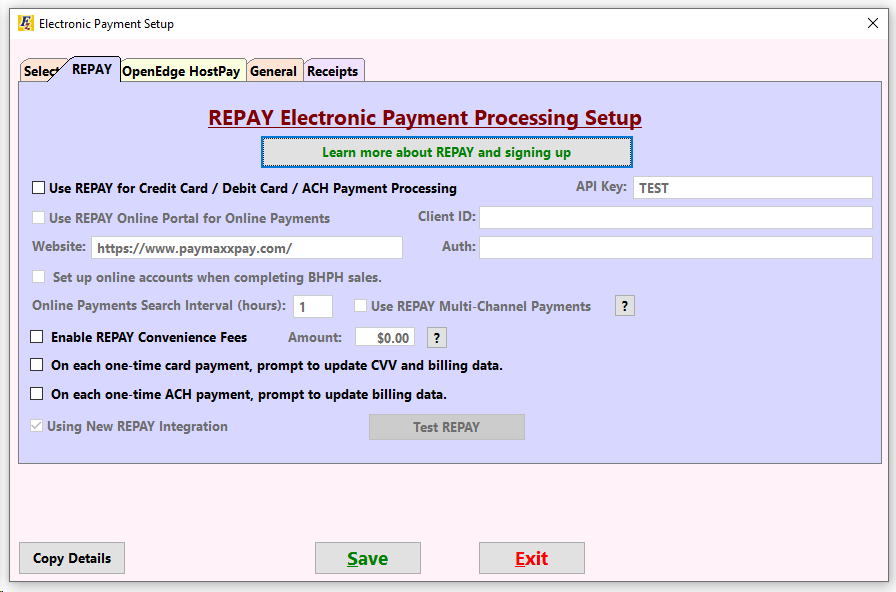 OpenEdge (formerly Paypros) system options: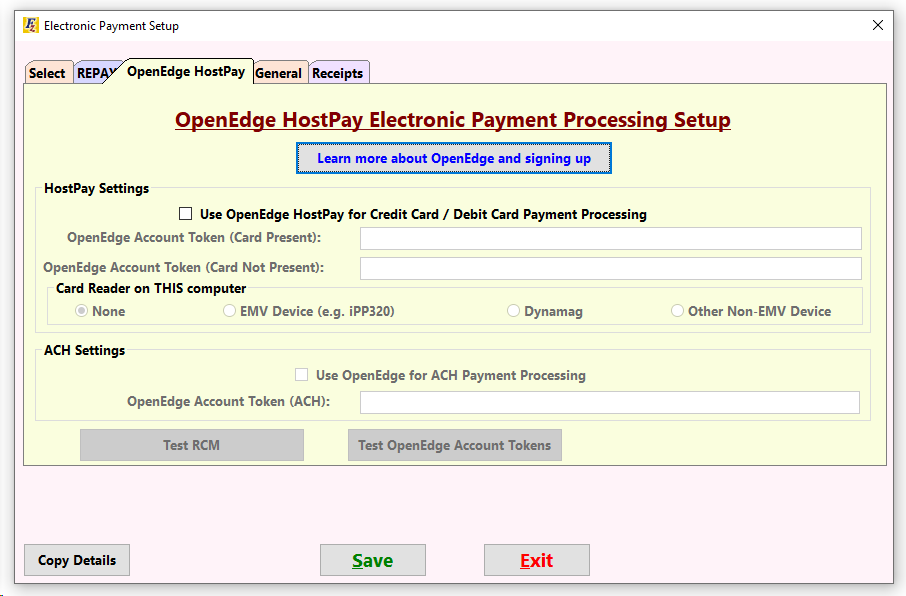 ---
For both processors, you will need to check the box to use the integration as well as enter in the account token or API key as it is received from the vendor.
Once this information has been entered, you can test by clicking the Test button on each setup screen, and you are ready to process payments through your Frazer system. If you believe you have entered everything correctly and the test fails, feel free to reach out to one of our friendly tech support representatives at 888-963-5369.
Because this integration requires internet access local Firewall Settings, and Proxies could prevent Frazer from accessing the internet, and affect certain aspects of the program. If you suspect this may be the case, have your local technician check your network and internet settings.
In addition to setup, you can change a few settings in regards to how Frazer will process these payments.
When you enter an electronic payment, Frazer will automatically print an Electronic Payment Authorization sheet. You can decide if you want a single sheet or multiple copies of this form to print at the time of the payment by changing the number in this field. You can also decide if you should be forced to provide a reason for refunding electronic payments. You can also designate whether you would like to have electronic payments be your default method of payment, as well as how you would like to provide your customer's receipts. If you have multiple processing companies enabled you will be given the option to choose which company is the default processor. Finally if any of your customers have agreed to automatic recurring payments, you can tell the Frazer system to remind you every morning to process any of these that are due.

Once you have completed your entries, don't forget to click on the Save button. Now you are ready to enter electronic payments for regular payments, down payments, and set up recurring payments for your customers.
Down Payments:
Regular Payments:
Entering single Electronic Payments
Recurring Payments:
Click here for Recurring payment information.