***Internet connection is required and updates MUST be done from the main server computer for Frazer. All sub-windows should be closed in the program and Frazer should be closed on all workstation computers.

If the dealership has recently requested a new Buyer's guide, then you will need to run a "Special Update".
If you are on the phone with a member of support, they will make the necessary changes and direct you to the Special Update button in Frazer.

It can be found by going to Updates, along the top of Frazer.

If updating from an email, click on the link provided in the email.
An update file will download to the local computer via the link.
Some browsers will give the option to run the update.
Other browsers require the file be saved first, then run after a security scan.

The following screen will appear: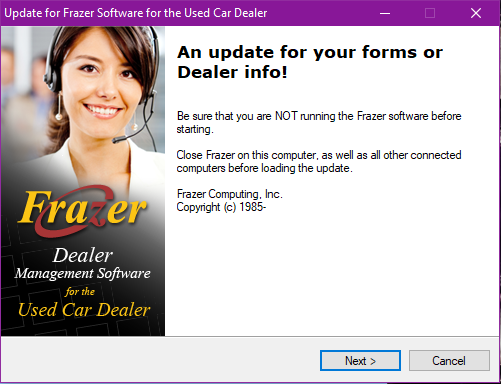 Click on Next.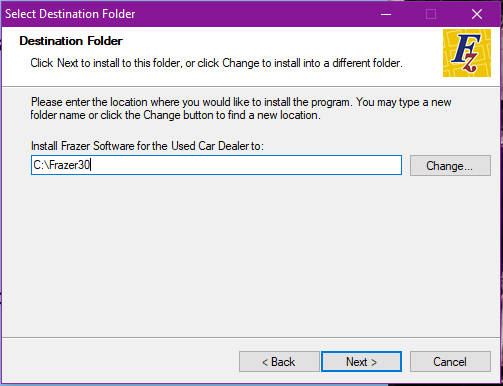 On the following screen, be sure that the destination folder shown is where the Frazer program is installed on the server.

Continue through the following screens by clicking Next.
The program will close automatically, then after a few moments reopen to update several data files, including forms and Buyer's Guide information. When the process completes, the update is finished and the program may be opened again.

Possible errors:

If a Special Update is not available, an error message will appear.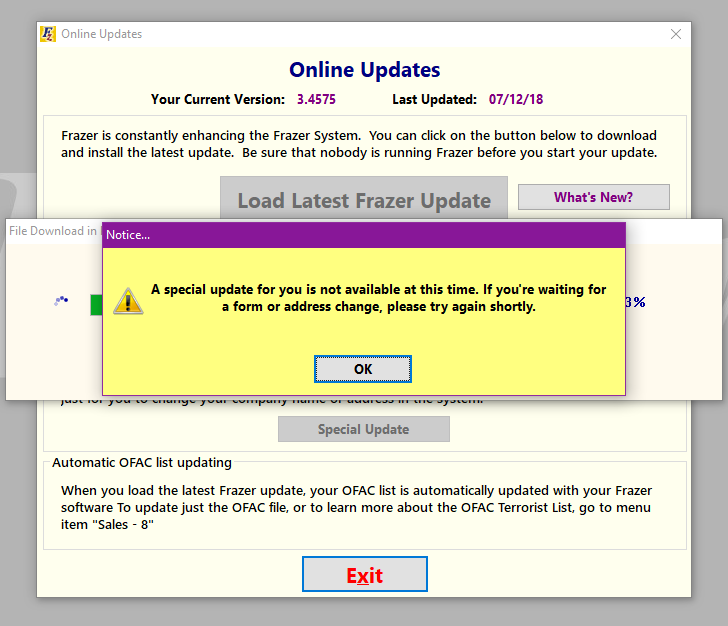 Wait a few moments and try clicking the Special Update again. If this error persists, call Frazer support at 888-963-5369.
Another possible error is if Frazer is open on any workstation computers, or if sub-windows are open.
A warning message will appear.

Verify the program is not open or minimized on any workstation computers and all sub-windows on the main are closed.
If the program is closed, but the message still appears, restart the main computer and run the Special Update again.

Local Firewall Settings and Proxies could prevent Frazer from accessing the internet, and affect certain aspects of the program.
If you suspect this may be the case, have your local technician check your network and internet settings.


See Also: