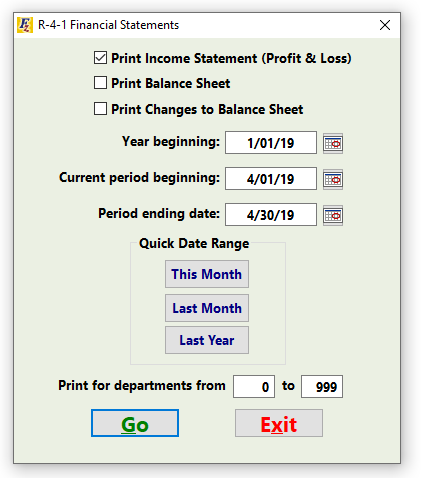 Financial Statements are available from both Accounting > T – Financial Statements as well as Reports > 4 – Accounting > 1 – Financial Statements.
Report options include:
Income Statement:
The scorecard for your business. Running this report will show the overall profitability of a dealership for a period of time. This report takes into account all income and expenses including those that are not related to sales. (Expense examples include: Rent, Payroll, etc.) Note: When run through the "Year End Reports" option, the "Month-to-Date" section is actually printing last year's numbers as well.
Balance Sheet:
The Balance Sheet displays your balances for your Asset, Liability, and Equity accounts for today, the end of the last fiscal year or for any date in the past. Most bookkeepers would describe the balance sheet as a snapshot of the company's financial position at a particular point in time.
Changes to Balance Sheet:
An analytical report allowing you to see your balance sheet data in a different format. This report allows you to see the total debits and credits for each balance sheet account with the monthly numbers on the left side of the report and the year-to-date numbers on the right side of the report.