The Vendor Cost Listing report allows you to run a report spanning all of your vendors, although you do have the option to run the report for a single vendor.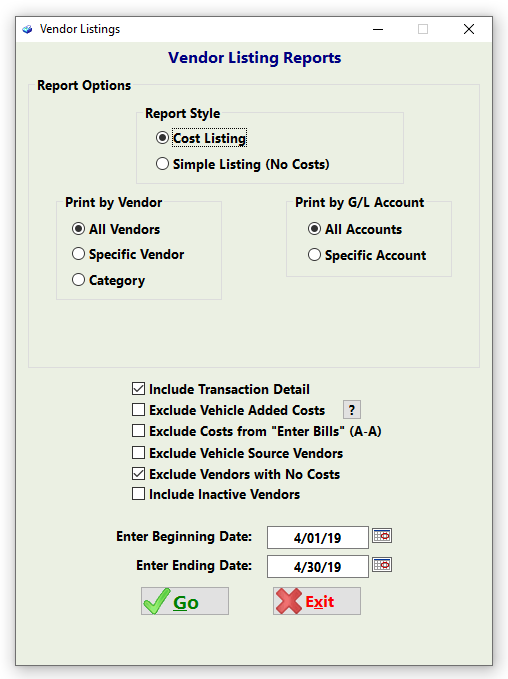 Report Options:
Report Style:
Options include a cost listing or a "Simple Listing". Running a "Simple Listing" will only include the vendor's business information and will not include and actual listings.
Print by Vendor:
Options include all vendors, a specific vendor, or a broad range based on vendor "category".
Print by G/L Account:
Dealers have the option of setting a default expense (or liability) that is auto selected when entering bills in Frazer. The box for this is located on the "General" tab of the Vendor's file.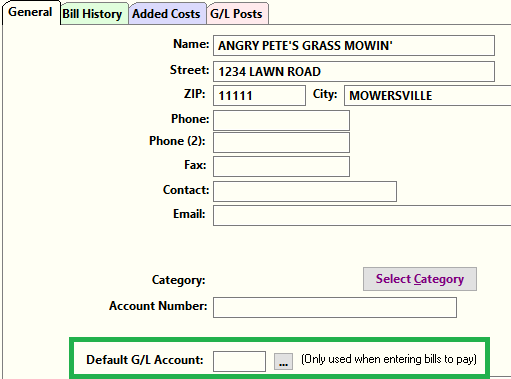 Checkbox options:
Include Transaction Detail:
Leaving this box unchecked will only include totals for each vendor.
Exclude Vehicle Added Costs:
This option will exclude from the report any vehicle added costs that have been paid for via means other than a bill. If you show in Frazer that you paid for added costs directly with either an asset or a liability, leaving this box unchecked may show duplicate transactions.
Exclude Costs from "Enter Bills" (A-A):
Checking this box will exclude anything entered via Accounting > A – Enter bills and hand printed checks.
Exclude Vehicle Source Vendors:
Checking this box will remove any vendors classified as a "vehicle source" from the report.
Exclude Vendors with No Costs:
Checking this will exclude any vendors for which you received no services during the specified time period.
Include Inactive Vendors:
Frazer gives you the option to make vendors inactive so that you do not accidentally attach a bill to a vendor you're no longer doing business with. Checking this box will remove these vendors from the report.