Go to Accounting, then D - Record Bank Deposits.
---
Each time a payment is entered into a customer's account, the payment is posted automatically as a debit to Account 1010 - Cash in House. Entering a bank deposit moves the desired amount from the cash account to the general ledger's bank account, mirroring the physical steps of taking a deposit from the dealership to the bank.
---
Deposits automatically post to Account 1000 - Cash in Bank. *The deposit account cannot be changed.*
---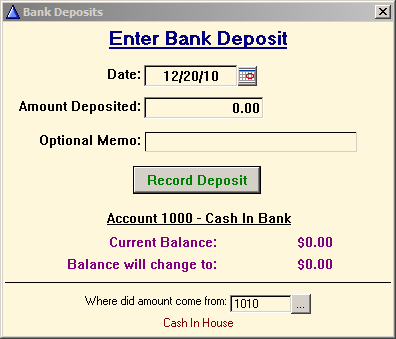 By default, the deposit amount comes from Account 1010 - Cash in House. There may be situations where the default account must be changed. This account is changed by clicking the button at the bottom-right of the screen, then selecting the correct account from which to transfer the money. Deposits may only come from asset, liability, or equity type accounts.
---
A deposit to the checking account will increase (or debit) the amount of money in the checking account and:
| | |
| --- | --- |
| • | decrease (or credit) the amount of money in the account if the deposit comes from an asset account. |
| | |
| --- | --- |
| • | increase (or credit) the amount of money owed in the account if the deposit comes from a liability account. |
---
A bank deposit posted to the G/L looks like the following:

---