If you've never used Frazer's Password System before, setup will be pretty straight forward for you.

The first step is to click Miscellaneous → 3 - Password System and you will see the following screen :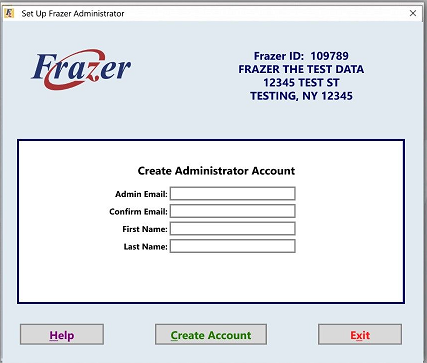 Once an administrator is present, click Yes! I am the administrator.
A pop-up will notify you to add an administrator email address and password.
Once completed, you will be e-mailed a temporary password at the e-mail address you provided.
You will now be brought to the administrator login screen, where the administrator will use their
temporary password to log in and finish the password system setup:



In addition to setting up your administrator, you'll need to follow the
directions on each screen to complete the following steps :
Administrator Login
This is your first login with administrator credentials.
Required before you can add new users.
Gather User Data
This step is skipped in this scenario.
Create User Accounts
This is where you set up any users that will need Frazer access.
Initialization Complete!
You'll see the following screen
The setup is now complete! Click the OK button to restart Frazer:
Once it re-opens, you will be asked to login with your Administrator e-mail address, and temporary password.
You will be asked to change your temporary password and select a permanent one:
Click Save to finish this process, and you're done!
When Frazer reopens, you'll be greeted by a new login screen.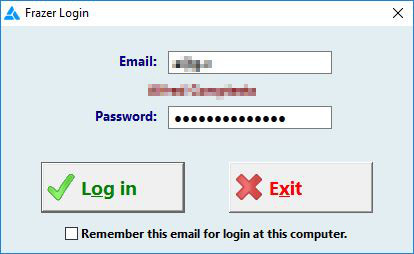 Use the admin credentials you created during setup to login.

Any users that were migrated over or added will have to go through an initial login
process, much like the Administrator.

They'll have an email with a temporary password waiting for them after setup.

They just need to use that temporary password for their first login, and they can
change their password from there.

Should you have any questions about this process give us a call at 888-963-5369!

Password System User Guide

Back to the Main Menu