Setup
A Dealer's requirements prior to using the integration:
•A Dealertrack account (sign up here!)
•A business relationship with at least one bank inside the Dealertrack portal. (Click here to learn more.)
Setting up a banking relationship
Reach out to any lenders that you currently do business with and verify that they are able to receive submissions from Dealertrack. Assuming they can, have them add your dealership to their Dealertrack dealer file. The rest will work automatically. Note: This process may take up to 24 hours for it to take effect. Please wait at least that long before attempting to use Dealertrack to send a deal to the lien holder.
For best results, dealers should attempt to set up business relationships with as many providers as possible.
Telling Frazer you're ready to use Dealertrack
Dealertrack's linking process requires sending a message to Dealertrack (from Frazer), and then allowing 24 hours for your Dealertrack account and your Frazer account to link up.

To get started navigate to Sales > J - Financing Providers > 2- Dealertrack. (You may also access this menu from Enter Sales > Finance this Deal.)
On the Dealertrack screen, click the "Establish Account Link" button. You will receive a message that the link request has been sent.

After clicking "OK," you will need to wait the 24 hours before you can set up your Dealertrack portal.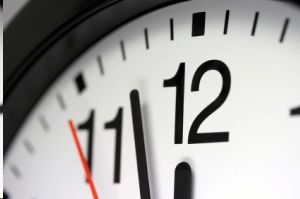 Once the required 24 hours has passed, navigate back to the menu and click "Establish Account Link" again. You should receive a new message: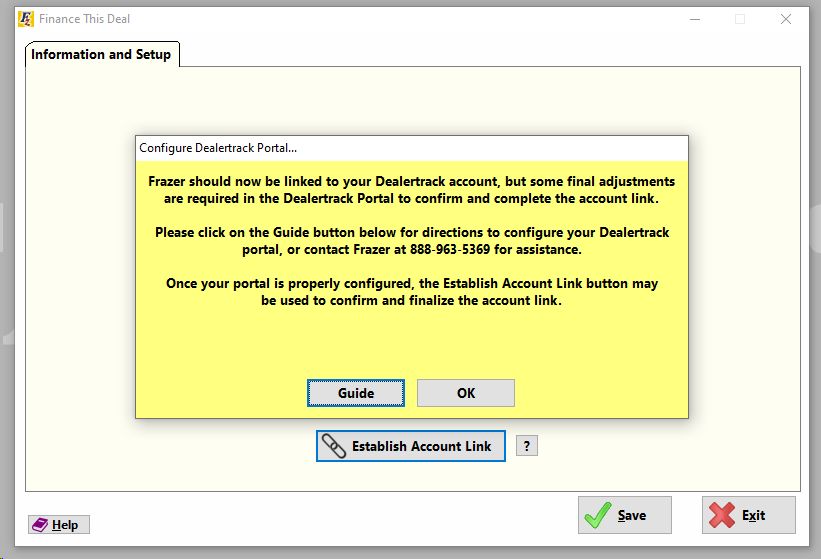 You will be prompted to make some final adjustments on the Dealertrack side.
The link between Frazer and Dealertrack will NOT work if the portal has not been configured.
Once you've completed the step of portal configuration, click "Establish Account Link" one final time.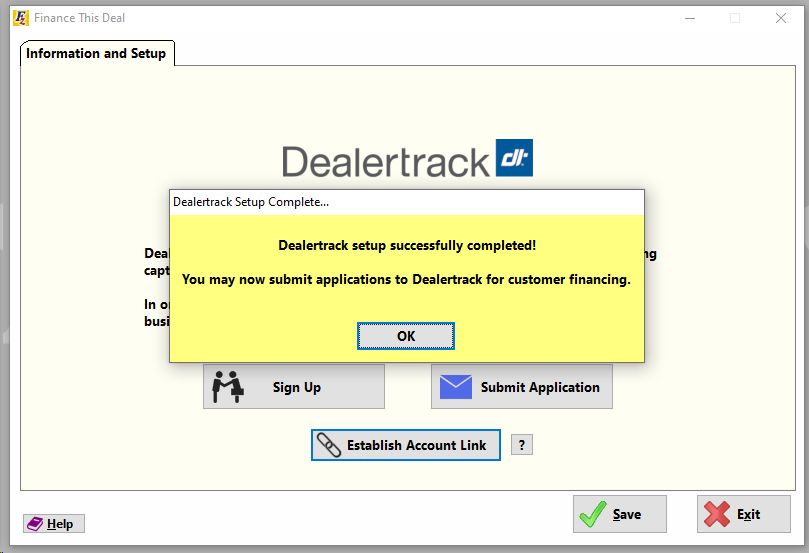 Assuming you have received the "success" message, you may move on to learning more about using the integration. If you receive a different message, feel free to call Frazer's technical support at 888-963-5369 and one of Frazer's friendly customer service representatives will be happy to help you troubleshoot the issue.
Setting up Dealertrack's portal to receive submissions from Frazer
1.Log into the Dealertrack portal.
2.Navigate to Lenders > Partner Communication.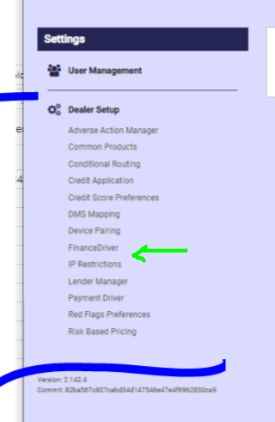 3.Select Leads > Preferences.
4.Click on "Partner Integration (FinanceDriver)" then "Continue".
5.Select the partner check-box for Frazer, then "Continue." If Frazer is not available on this screen, something has gone wrong with the setup. You may call Frazer at 1-888-963-5369 and a Frazer customer service representative will be happy to troubleshoot what went wrong.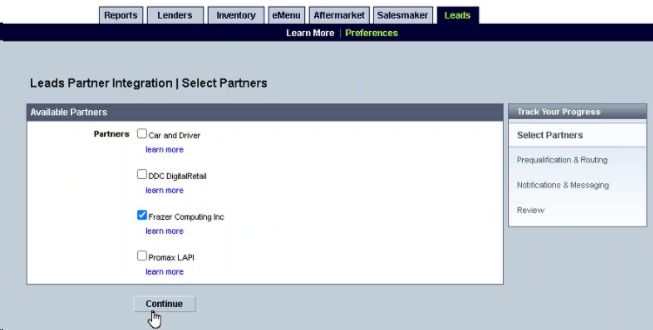 6.Make sure the "Decision Response" section has "Send Detailed Information" selected.
Note: In the "Lender Routing" section, you will find Frazer and have the option to select lenders to automatically submit credit applications to. This is an uncommon workflow, and is not recommended unless you are only submitting deals to ONE lender from Dealertrack. Enabling this option will bypass your ability to submit deals to various lien holders of your choosing and instead send all deals automatically to the lien holder chosen here.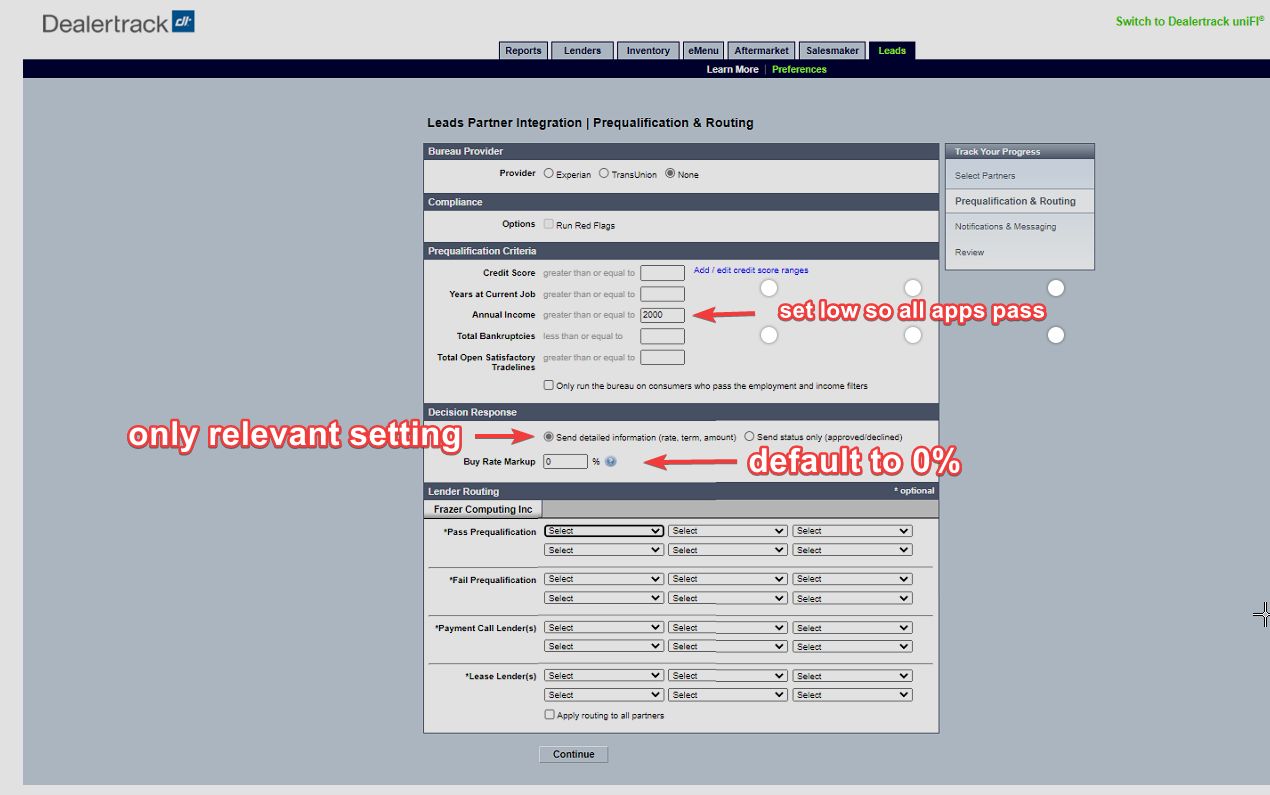 7.Additionally, although the Frazer integration does not use the email settings, you will need to have an email entered for all of the "Notifications" settings.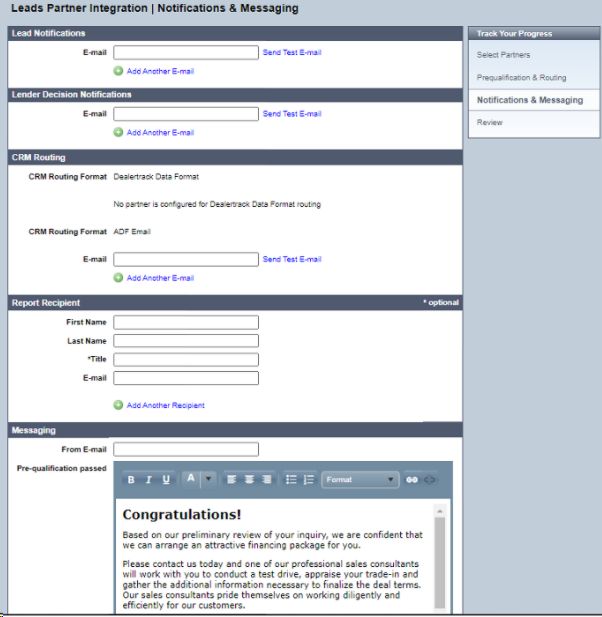 8.Once complete you will be prompted to save. This should complete the portal configuration for Frazer.
9.The last step in the process is to hop back in Frazer and finalize the integration setup.
To use Dealertrack, open the "Enter Sales" screen and make sure you're working on an outside finance deal. From there enter your customer / pricing information. Once entered, on the "Pricing" tab, look for the "Finance this Deal" button. Clicking that button will automatically send your deal information to Dealertrack for financing.
Once the lead has made its way to Dealertrack, you are ready to send that deal to various banks. Under the "leads" section of the portal, depending on your portal version, you will be looking either for "Deal Jacket," or if you don't see "Deal Jacket," select the customer directly.

Selecting the customer will bring you to a screen with more basic customer information.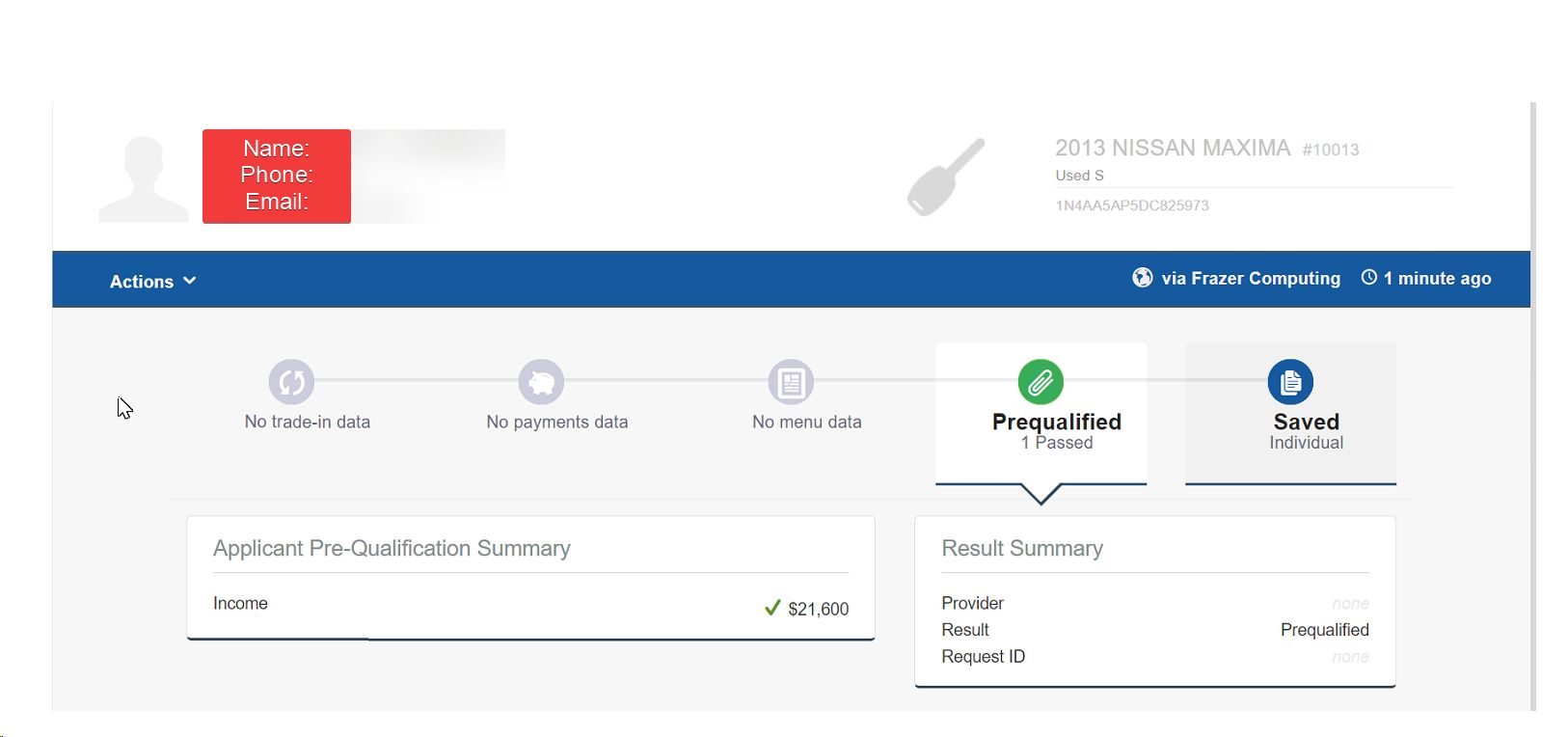 From this screen, select the "Actions" drop-down menu and then "Prefill Credit App." This will draw the information in that was sent from Frazer.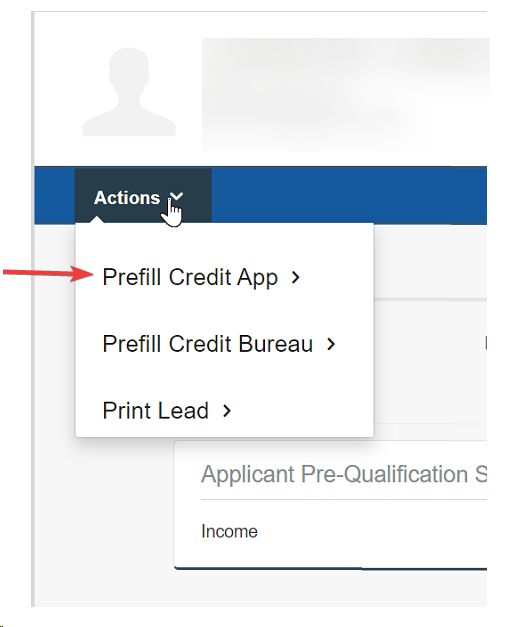 The portal will lead you through various screens to confirm the customer's information and then bring you to a window where you can select which lien holders you would like to send your deal to.
Check the box next to any applicable lien holder and then click "Submit."
Pulling a deal back into Frazer
Once you have received notification that the deal has been approved in Dealertrack, simply retrieve the prospect in Frazer, click on the "Finance this Deal" button and select the approval you would like to use.
Note: Frazer receives limited approval info, so it is best to compare the approval sheet from Dealertrack and verify that Frazer is showing the most accurate information.
Once verified, you are ready to complete the deal and print the paperwork as you normally would.
Troubleshooting and notes
Updates to the Dealertrack portal require 24 hours to update. Anytime a new lender is added (or the initial sign-up process) the update may take up to 24 hours before the integration includes the new lien holder or in the case of setup before the integration is active.
Will my J.D. Power (NADA) vehicle valuation be sent to Dealertrack?
No, the only value sent from Frazer is the "Wholesale Price" from the "Sales" tab of the vehicle file. Vehicle valuation may be included in a future release.
Applications will automatically be removed from the Dealertrack portal after 60 days.