Frazer can track your Form 8300 reporting requirements on each individual sale.
The IRS Form 8300 will prompt to print after a cash (or cash equivalent) transaction of more than $10,000 is saved into the program, either through a one-time transaction or total over a period of 12 months.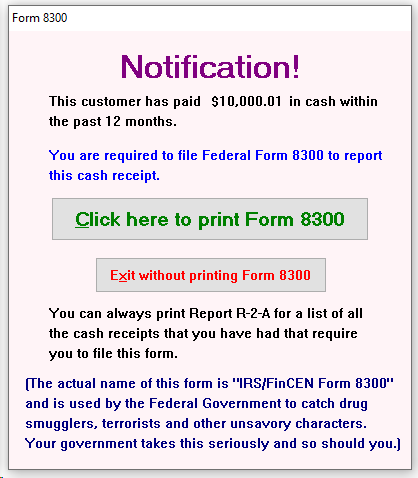 ---
Click on

. Provide the requested information on the subsequent screen.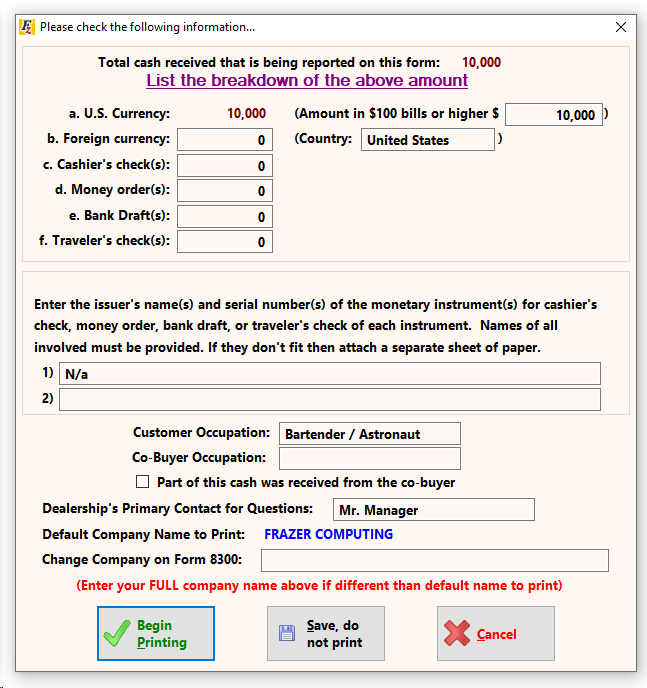 ---
Click

. The Form 8300 Instructions, a letter informing the customer that their information has been reported to the IRS, and the Form 8300 will print. Clicking

will save the entered data, but nothing will print.
---
To print the Form 8300 at a later time, go to

and select the customer.
---
In the customer's account, click on

then go to

. Then click on the Miscellaneous tab and choose

.
If over $10,000 in cash (or cash equivalent) was NOT recorded within a 12-month period, the screen below will appear.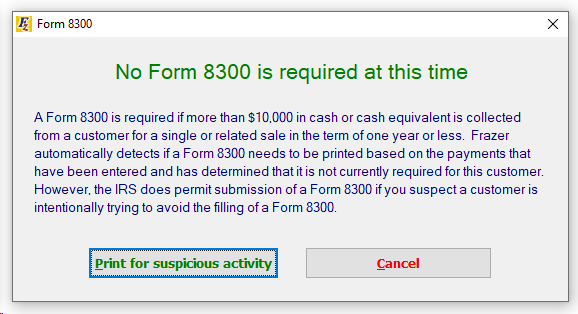 From here, if you still want to print the Form 8300 for your customer, click

.


This allows you to load and print a Form 8300 out of Frazer, even if the software didn't prompt you to print it.

Alternatively, you can click

to have Frazer open up a PDF of a blank 8300 you can view whenever you'd like.
---
All instructions regarding Form 8300 are available by clicking on

in the program (IRS Form 8300 Instructions).
---