•You can determine the value of both current and potential inventory vehicles using the J.D. Power integration.
•However, this is one of a few services which requires an additional subscription fee in addition to your normal Frazer fee.
•In order to subscribe to this service and activate your J.D. Power integration please call Frazer at (888) 963-5369.
Access to the J.D. Power integration is currently available in the following areas of the program:
•On the "Update Vehicle" window (Inventory File).
•On the "Vehicles" drop down at the top of the main Frazer window frame (V-9-B).
•On the "Trade-in" window.
•On the "Write Off" window.
An internet connection is required to use this service.
Update Vehicle Window (Inventory File)
A valid VIN and vehicle mileage are required to pull vehicle values. After these are entered, selecting the J.D. Power button (Top Right) should immediately obtain data about the vehicle from J.D. Power's servers.
In many cases, the dealer will be prompted to choose a trim and a condition for the vehicle: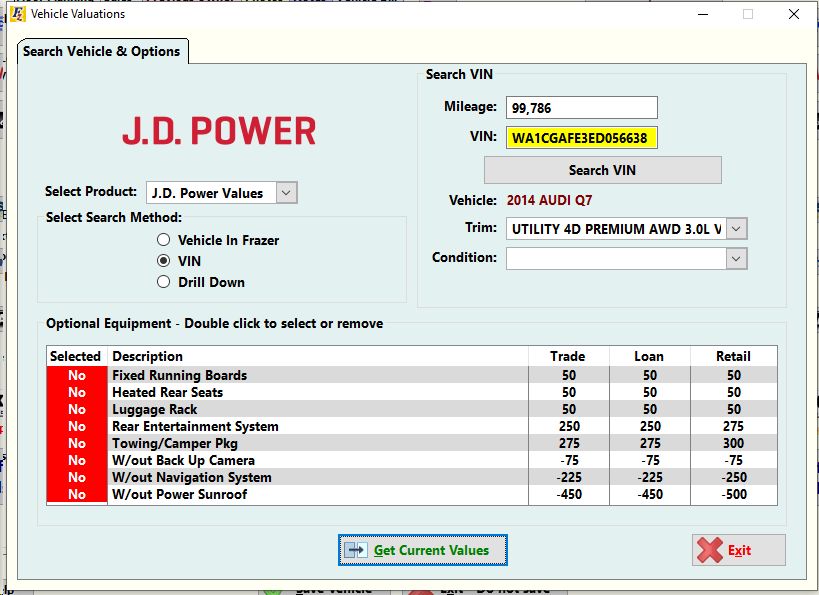 After selecting the trim, you will be prompted to select the "Condition" of the vehicle.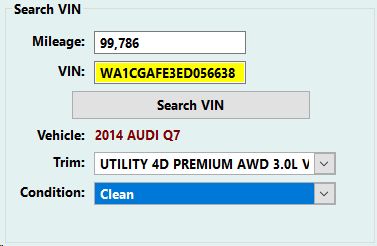 Users can scroll through and double click on any optional equipment that exists for the vehicle. Adding or subtracting equipment will effect the values that you receive from the vendor.
As you select optional equipment, items selected in the list will appear as green or red depending on whether that option is present.
When you are ready click "Get Current Values".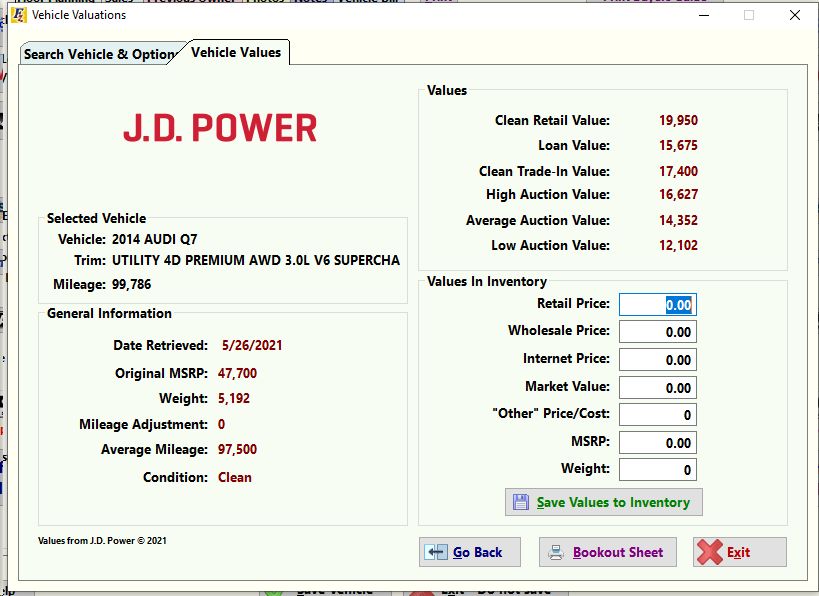 Frazer will display the values from the vendor as well as some other information.
Dealers have the option to update their pricing and click "Save Values to Inventory" in the bottom right.
NOTE: This will only update the sales tab. Users will still need to save the vehicle to lock in any new prices entered.
Frazer will keep a copy of the last bookout sheet, that can be accessed anytime by clicking the "J.D. Power" icon on the vehicle's file, and selecting "Bookout Sheet From XX/XX/XXXX".

Vehicles drop-down menu (Vehicles, Item 9, Letter B)
This window is a little different. The "Vehicle in Frazer" tab behaves as above (Vehicle Inventory section), but includes a "Select Vehicle" option.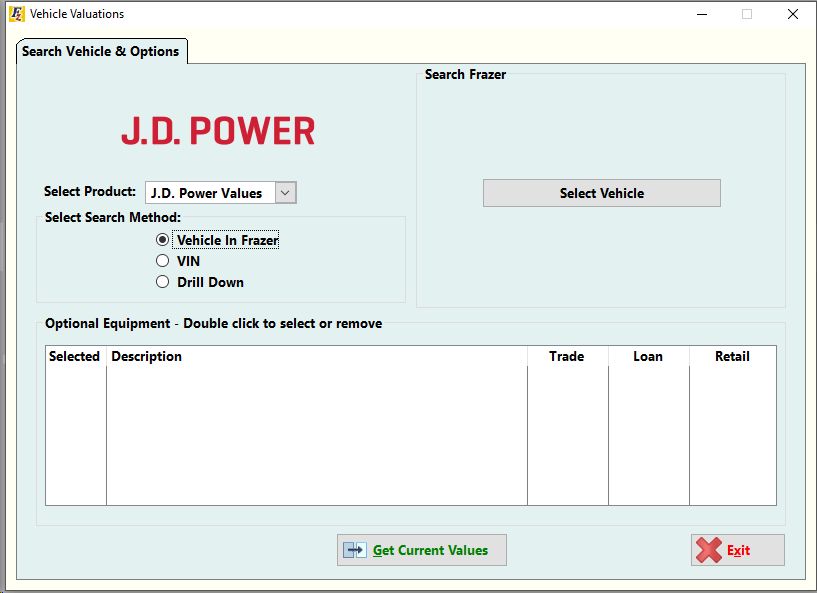 This window offers three options for pulling values: Vehicle in Frazer, VIN, or a Drill Down. (Screenshot below of changes to "Search" box in the top right (depending on radio button selection).)

Trade-in Window
J.D. Power is available from both Trade-In screens.
Write off window
J.D. Power is available from the Write Off screen.
Printing data
The Bookout sheet: Frazer is able to print a bookout sheet using J.D. Power's values. Note: Only vehicles in inventory have the option to reprint a previous report.
Value Descriptions
J.D. Power uses a simple explanation of vehicle conditions.
•N/R- No Returned Value
•Clean- Like new.
•Average- Very little wear.
•Rough- More than expected wear.
The values listed in the window are the Adjusted values. These adjustments are made by taking a Base Value, and adding in adjustments such as vehicle Mileage, selected options, and region.
A breakdown of all of these values can be seen utilizing the Bookout Sheet.