Frazer makes it easier to keep track of reconditioning costs. The first step is to open a vehicle from your inventory screen.
Once open, look for the "..." box next to the "Added Costs" totals box in the top right of the "General" tab of the vehicle file. (By default, your "Vehicle Costs" box may be hidden by a

button. )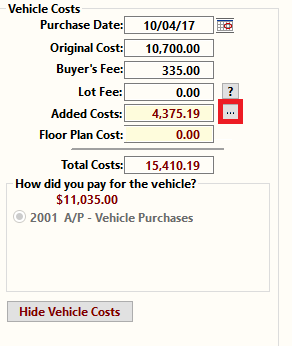 The "..." box will bring up the listing for all added costs for that vehicle. (If using the "Vehicles" drop-down menu and 2 - Added Costs, you will be brought straight to this screen after selecting a vehicle.)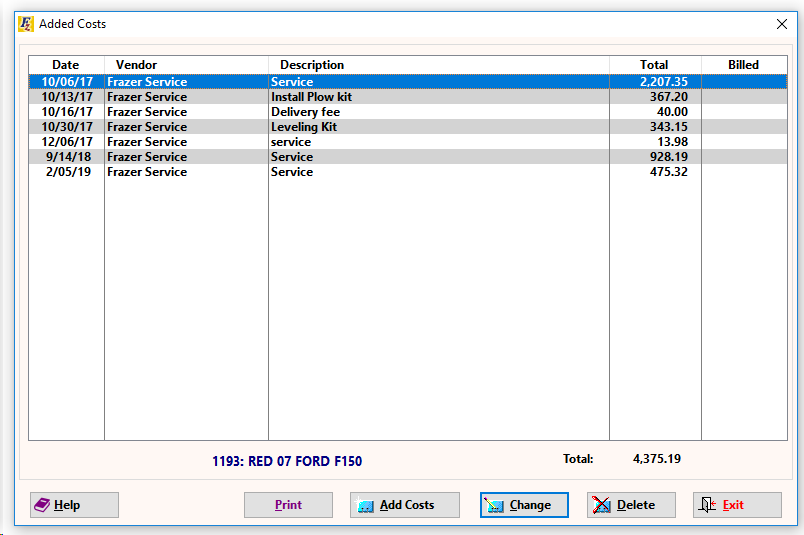 To edit a previously entered added cost, select the cost and edit the cost as needed.
To delete a cost, simply highlight the cost in the list, and click "delete" at the bottom of the screen.
To add a new cost, click on "Add Costs".
---
Enter a description of what your added cost is in this box. (Example: Brakes, Oil Change, etc.)
---
Enter the date for the added cost.
---
Enter your initials for who added the cost to the vehicle.
---
Select the vendor who performed the service work.
---
How much did reconditioning work cost? Note: There is an option to include a labor calculator by enabling it in M-1-5.
---
How did you pay for this cost?
Select the General Ledger account for which to apply the cost to.
---
Print a report for the particular added cost you're looking at.