Note: This will not change the company information that prints on forms. To change your location information on your forms, please contact Frazer.
You can change the company name and address that prints on receipts, letters, and payment coupons.
To do this:
1. Click on Miscellaneous.
2. Select option 6.
This window allows you to specify what seller name and address to print for different customer location codes and/or ratings.
For example, you may have your used car sales lot set up without a location code, but your Related Finance Company (RFC) has been set up as location "F". Then, you could set the System to print different company information on receipts for the RFC.
You also have the option to indicate a default department to be associated with transactions for a particular location code. Any transactions that are processed for a location will be recorded in the General Ledger under the department you have indicated in this screen.
The initial screen will show a listing of all of the previous "changes" you have saved.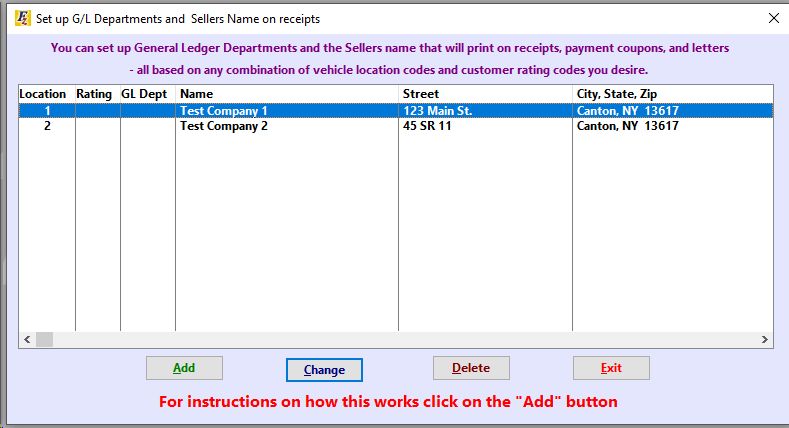 You may highlight a previous entry and "Change" it or you may add more "seller names" by clicking "Add."
Explanation of the "Add" button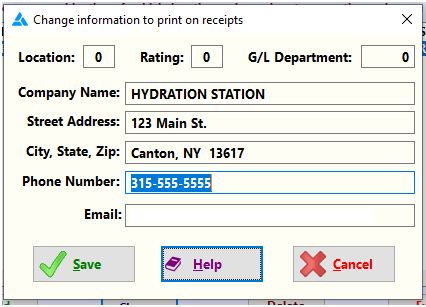 "The change seller's name" can also be customized to take into account location codes, groupings, and GL departments. (Or some combination of the 3.)
A note on locations and ratings: These boxes will determine what triggers the printing of different location information. For example, if you use the example above and enter a location code of 1, the Main Street address will print, whereas if you used location code 2 the "SR 11" address will print.

Likewise, the same holds true for "Ratings."
If you enter both a location AND a rating for the company information, the particular address information will NOT print unless both conditions are met.