Hutchins Systems, Inc.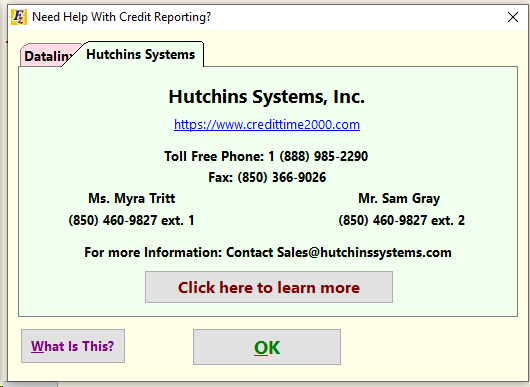 ---
Experian
Experian has no minimum account volume requirements.
Contact Experian at 800-831-5614 extension 3 to request a new membership package kit and a Vendor Identification Number.
Hutchins Systems' (Credit Time 2000©) Metro 2® credit reporting software has been approved by Experian as a preferred vendor for small to medium companies which only have a small to medium volume of accounts to report.
---
TransUnion
The minimum requirement for reporting to TransUnion is 100 accounts for the first month only.
Contact TransUnion at 866-922-2100 extension 3 or www.transunion.com.
---
Equifax
Equifax requires a minimum of 500 open accounts in order to report directly to them, and the accounts must have a balance.
Equifax can be contacted at 888-202-4025 or www.equifax.com.
---
Innovis
Innovis requires a minimum of 5,000 accounts for direct reporting.
Contact Innovis at 866-391-5484 or www.cbcinnovis.com.