There are several standard account status codes. Go to Standard Account Status Codes to see a complete list.
---
To change the status code for a specific customer, go to

then

the customer in question.
Click on

then

.
Go to the tab for Credit Reporting/Bankruptcy.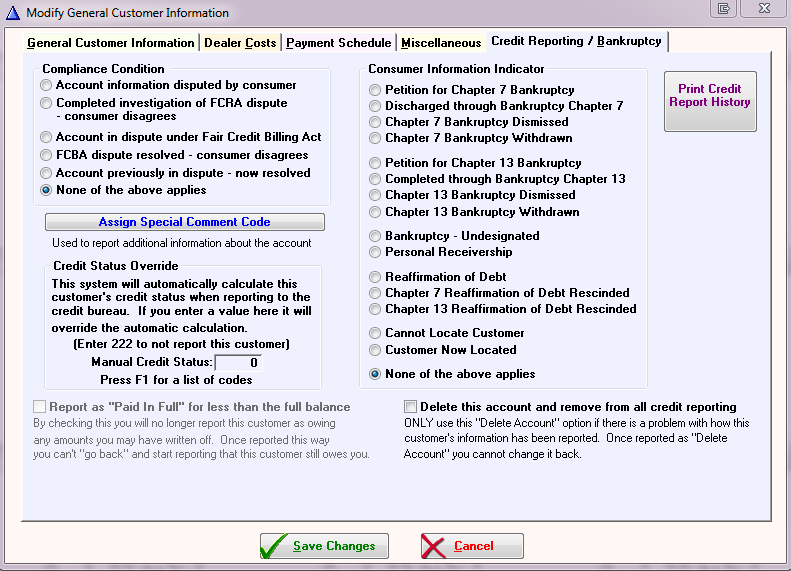 ---
The Manual Credit Status may be overwritten here, if necessary. To report if a customer is in Bankruptcy or other information, go under the Consumer Information Indicator section. Anything changed in the Credit Reporting/Bankruptcy tab will update in the Metro 2 ® file the next time credit is reported.
---
Once the Metro 2 ® is created, send it to the desired credit reporting agency. The agency will indicate how the file is to be sent to them.
---
Accounts that become a repossession in collections
Once an account reports as a 96 repossession in collections, it can never go back to current status. The official ruling for this came from the Consumer Data Industry Association (CDIA) and is as follows:
Account Status Code 96 is defined as "Merchandise was repossessed; there may be a balance due".
If the consumer redeems the repo, you should continue to report Account Status 96, but add Special Comment AZ (Redeemed or reinstated repossession).
As payments are made, continue to report the same codes with a declining balance.
When the account is paid in full, report Account Status 63 (Account paid in full, was a repossession) with Current Balance and Amount Past Due both equal to zero.
Discontinue reporting the Special Comment AZ.
Further questions and information can be obtained at:
http://www.cdiaonline.org/Metro2/content.cfm?ItemNumber=853&pnItemNumber=506
Also they can be reached by email at: metro2info@cdiaonline.org