Why does Frazer need ownership verification?
When you call in (requesting a data backup or to move your server computer), we may ask you some security questions to verify you are who you say you are. In addition to compliance issues when handling data, this protects both your dealership's data as well as the personal information of all of your customers. We don't want your data in a bad guy's hands!
Frazer may also require verification for certain company changes, such as updating addresses.
When does Frazer need ownership verification?
Typically ownership verification takes place when a new customer signs up or needs to transfer their Frazer database to a new computer. For some of Frazer's older customers, you may have transferred computers in the past without verification, and never had a need to set up verification. As Frazer evolves, we want to ensure that your data is always safe, and so we encourage those older dealers to go through the verification process now so that in future when it's an emergency situation, and you need a backup, the verification is done, and one of Frazer customer service representatives can get started on the process of getting you back up and running as soon as possible.
How do I do that?
Working with one of Frazer's customer service representatives
When working with one of Frazer's representatives, they will ask you for a few key pieces of information. In most cases, Frazer's reps will ask for a valid photo ID of the owner of the business as well as a business document listing both the company's name as well as the owner's name. In addition to this information, Frazer also requests a copy of your dealer license.

Frazer has taken the time to painstakingly search for state business databases and in many cases Frazer will only require the photo ID and the dealer license to get the backup process started. For any documents that need to be sent to us you may use our special email for just this process: ID@Frazer.com
The customer service representative may also direct you to our "Ownership Verification Portal."
Ownership Verification Portal
Clicking this button will give you the ability to quickly and safely transfer your ownership documents to us.

The button can be found by navigating to Miscellaneous > 1 - System Options > Tab 9 - Dealership Information. Look for the "Ownership Verification Portal" Button.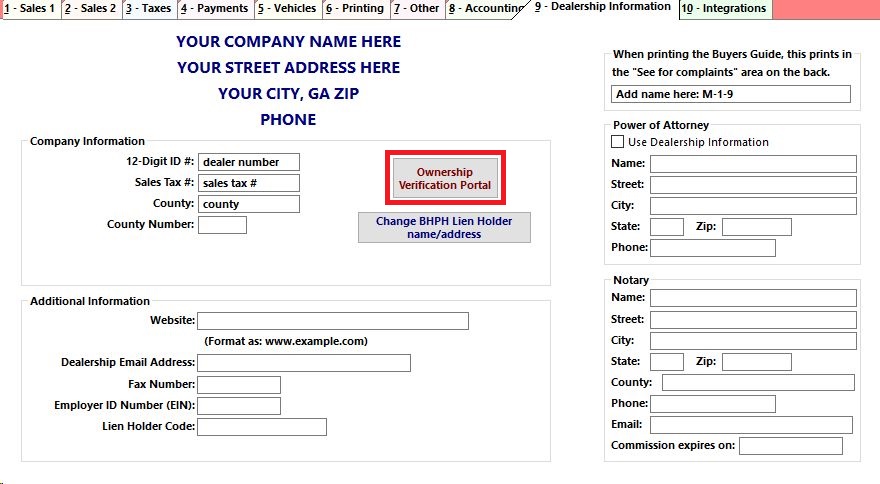 Once the button is clicked, you will have the option to enter the portal directly, or in the case where the owner is off-site, a button to send a link via email.
The portal includes areas to enter ownership information as well as places to upload images of the owner's identification and/or ownership documents.
If sending the link to someone, be sure to enter an email address.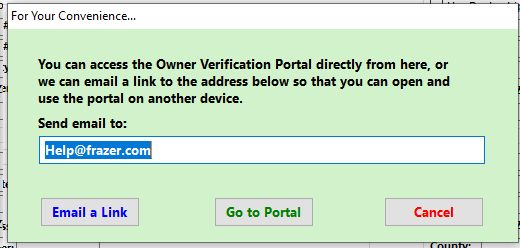 Enter an email address and click "Email a Link" to send the portal link email.
That email will look like this: