How to Set Up the SiriusXM Integration
First, Click Inventory in Frazer and select any vehicle.

Every vehicle will have the SiriusXM button here :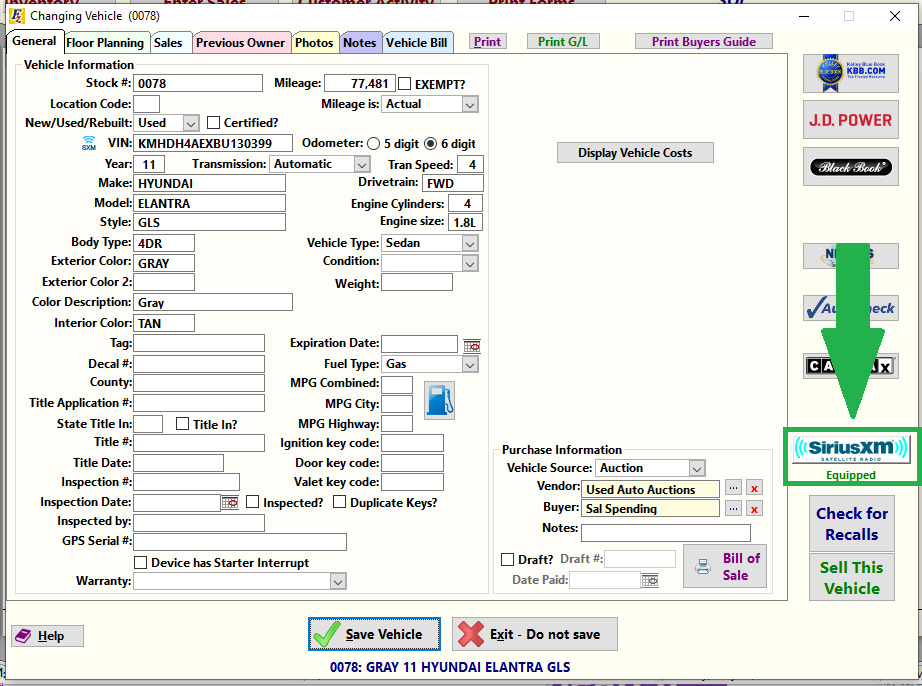 Pay careful attention to it. The image changes depending on the status of the vehicle's SiriusXM radio.
You may see any of these buttons below on your vehicles in Frazer.
SiriusXM Button Key :


MAYBE. Frazer hasn't checked for a SiriusXM radio, yet OR it cannot be determined yet.
This is the default view for the SiriusXM button.

YES! This vehicle has a factory-installed SiriusXM radio.
NO. This vehicle does NOT have a factory-installed SiriusXM radio.
Next, to continue with the setup, click the SiriusXM icon on any vehicle in inventory.

This box will pop up.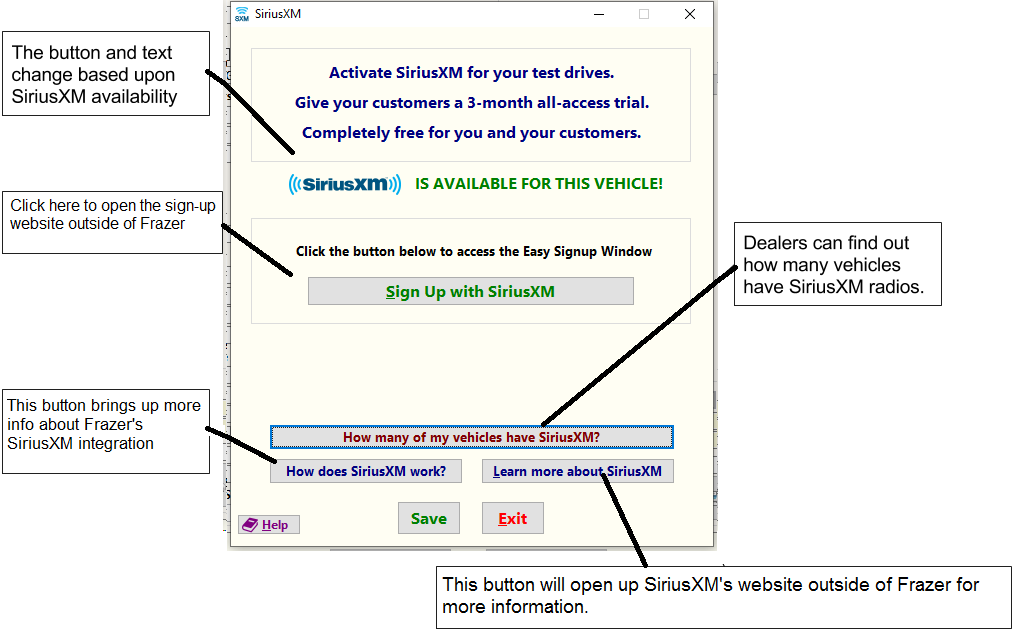 Click "Sign my dealership up with SiriusXM" and the sign-up website will pop up.

It is already filled out with much of your dealership's info.
Finish completing the sign-up form, check to agree to their terms of service, and click "Join Now" on the web page.

You can also click "How many of my vehicles have SiriusXM?" to get a list of all of your eligible inventory vehicles, prior to signing up.

Feel free to click "More details" for more info regarding the Frazer side of the integration.

Click "More information from SiriusXM" for more info regarding the SiriusXM side of the integration.


After the enrollment process is finished, back in Frazer, Check the "Check here when you have signed up" box.
IMPORTANT : It is possible to accidentally start using the integration in Frazer before you've actually signed up with SiriusXM. Be sure you've been through the sign-up process before checking the box above.





After checking the box, answer yes or no on the next pop-up
After clicking "Yes", Frazer will automatically sort through all of your inventory vehicles, checking whether or not they have a SiriusXM radio.

NOTE : This process can take a long time, depending on the size of your inventory.
Once finished, Frazer will generate a report of eligible vehicles.

Now, when you click the SiriusXM button on any vehicle, this screen will come up instead :
Once you see this screen after clicking the SiriusXM button on a vehicle, you'll know you are signed up for SiriusXM and can use the integration in Frazer.


To move forward and learn how to use the integration, click here!