What if I use a provider that isn't listed here?
Frazer has made it so that any email can be used with "Email Receipts". To access the manual settings menu navigate to the "Manual Setup" tab from the "Email Setup" window.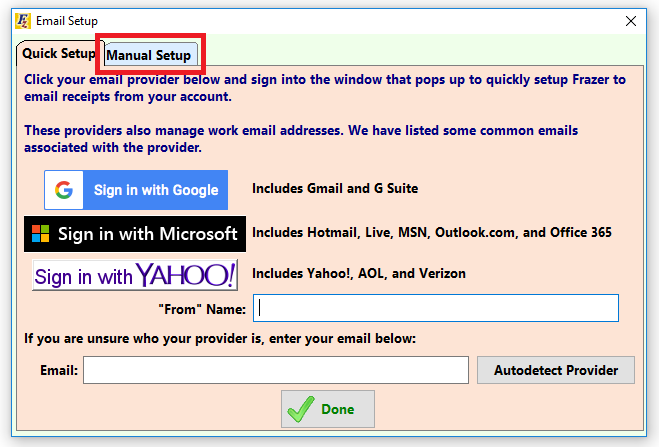 Once you have entered the manual setup screen, in some cases, all you will need to enter is the "From" name, the email address, and your password to log in.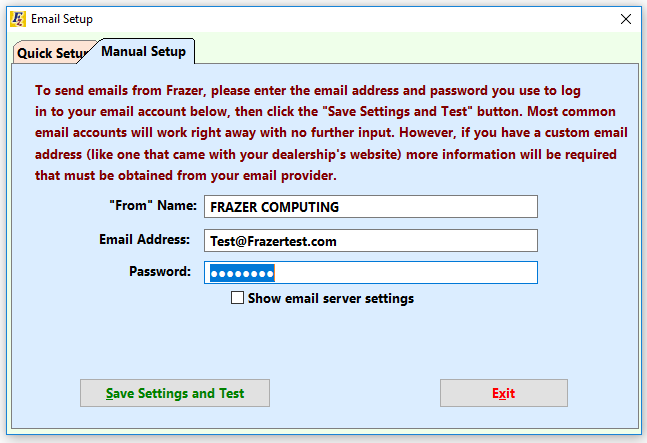 If your email is hosted by a website (any webmail client other than those listed on the previous tab) then this will likely be all of the information that you need as clicking "Save Settings and Test" will send the test email and save successfully. However, if you have email through your personal website or domain provider, then the automatic functionality may not work. If there's an error when trying to send the test email you will receive that as soon as you try to save and test.
In those cases you may need to check the box to "Show email server settings" which will reveal some more options: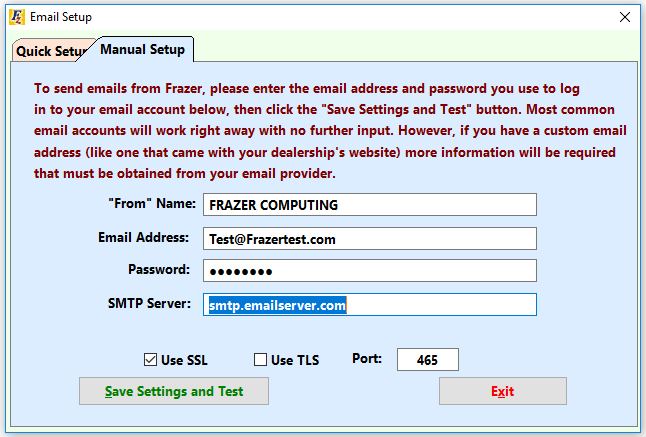 What should be entered here can be provided to you from your website or domain provider. If you aren't sure who that may be then you can certainly give one of our friendly techs a call and Frazer will be happy to attempt to help you figure out what information you need here or at the very least who to call to get it. Frazer's phone number, of course, is 888-963-5369.
Once you're able to press the "Save Settings and Test" button error free, check your email to verify that you received the test email. Once completed, you are now ready to send email receipts in Frazer.
Back to "ADVANCED" receipt setup.