Frazer currently has two integrations with texting companies.

This page is dedicated to learning about using the integration. For setup instructions, click on the respective logo of the company you're working with below. For more information on using the integration, click here.
For information regarding special forms for sales going forward, click on the respective link:
Texting within Frazer
Accessing the Integration
•Customers > A – Text Messaging
•Individual Customer's accounts.
Customers > A – Text Messaging
You may send batch text messages from here. First you will be prompted to select your template. For more information on the default templates (and how to change or update templates), see the respective articles here: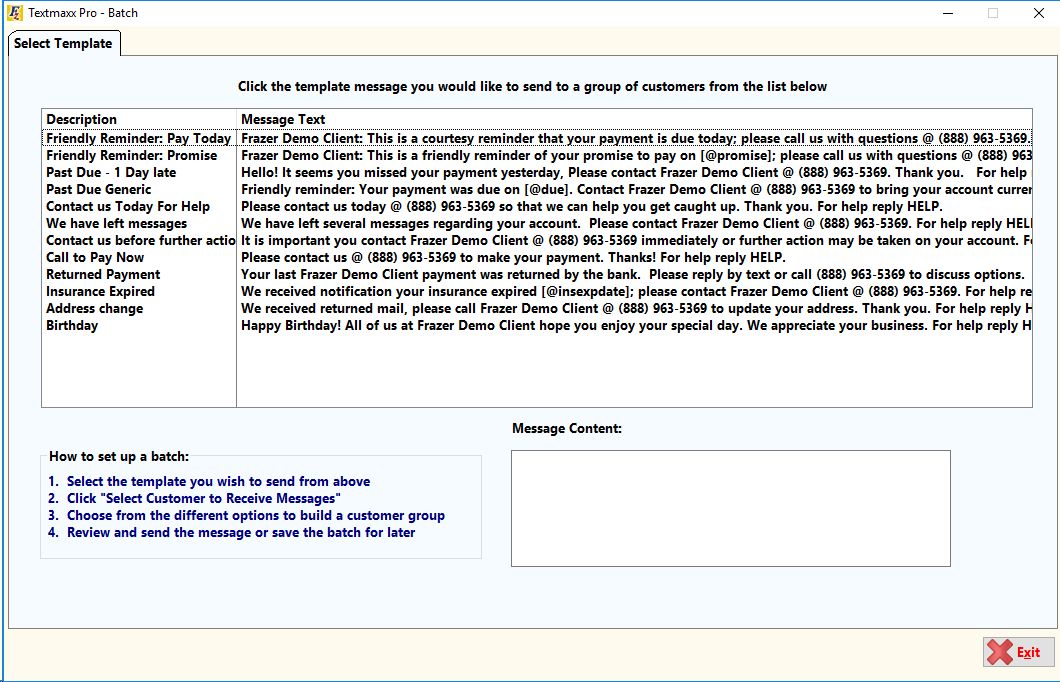 With a template selected you will be able to build your customer group to send the batch to. Examples of elements you can select from include customers by various dates, balances, or Location Codes.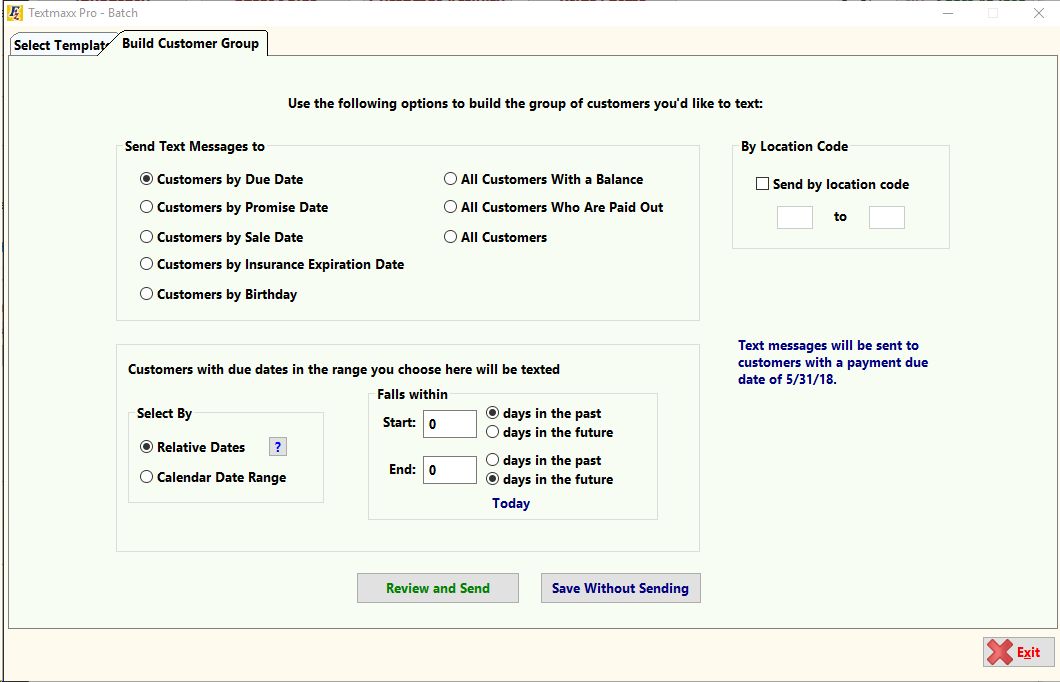 Once you've selected your customer group you will have the option to either "Review and Send" or "Save without Sending" the group.

You will have the ability to save these settings from either option for future use.
Assuming you've selected "Review and Send" you will be presented with a listing of all customers that have fallen into your group choice. From this screen you may add or remove customers as you see fit. You can also save the batch for future use. To produce a report for the selected customers select the "Print" button in the bottom right-hand corner.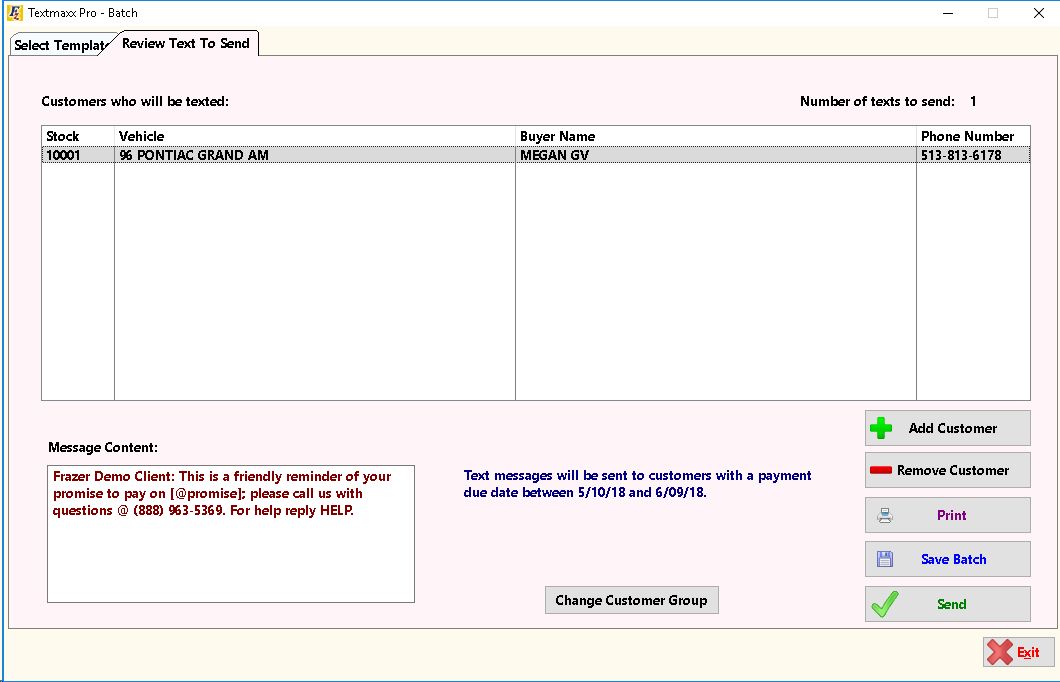 Upon the successful saving of a batch group, you will be presented with a "Batch Management" tab every subsequent entry into the text messaging area.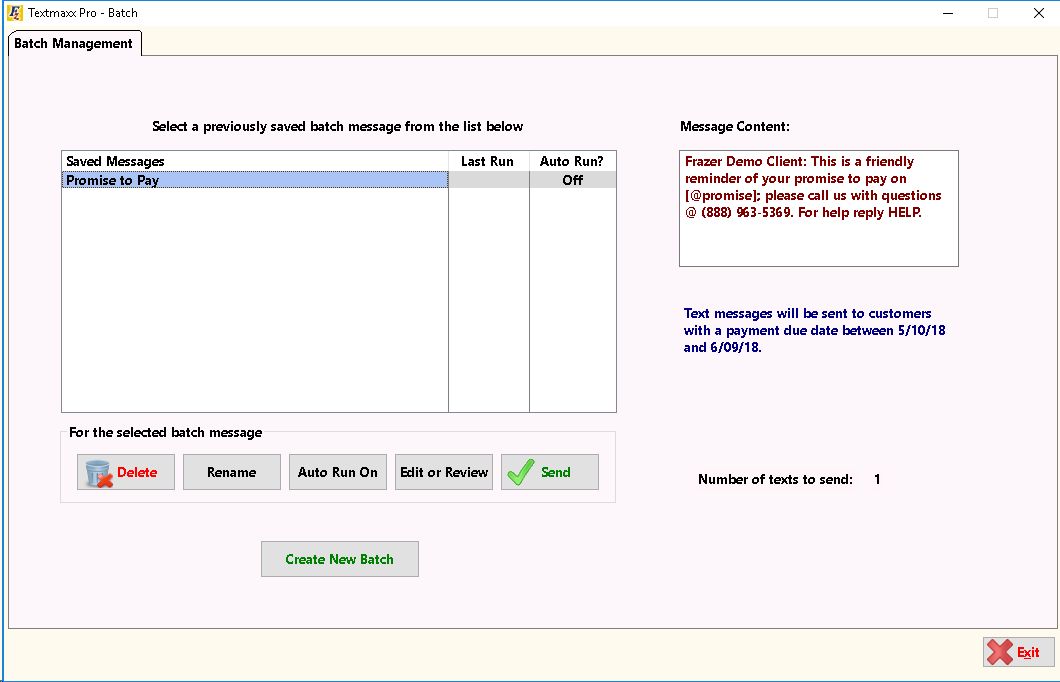 Text messaging is available directly on a customer's account. To access "Text Messaging" look for the button in the top right of the "Customer Activity Screen."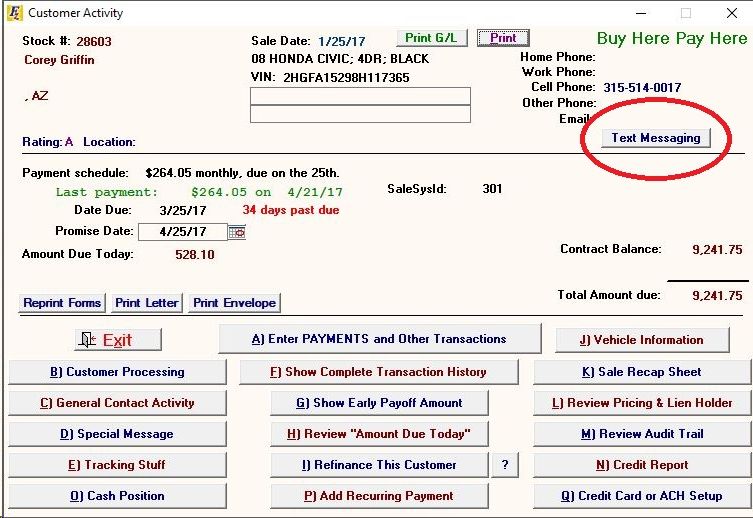 Clicking the button will both verify the status of the phone number as well as check for any new messages received. Once complete, you will be presented with your templates
Template pages: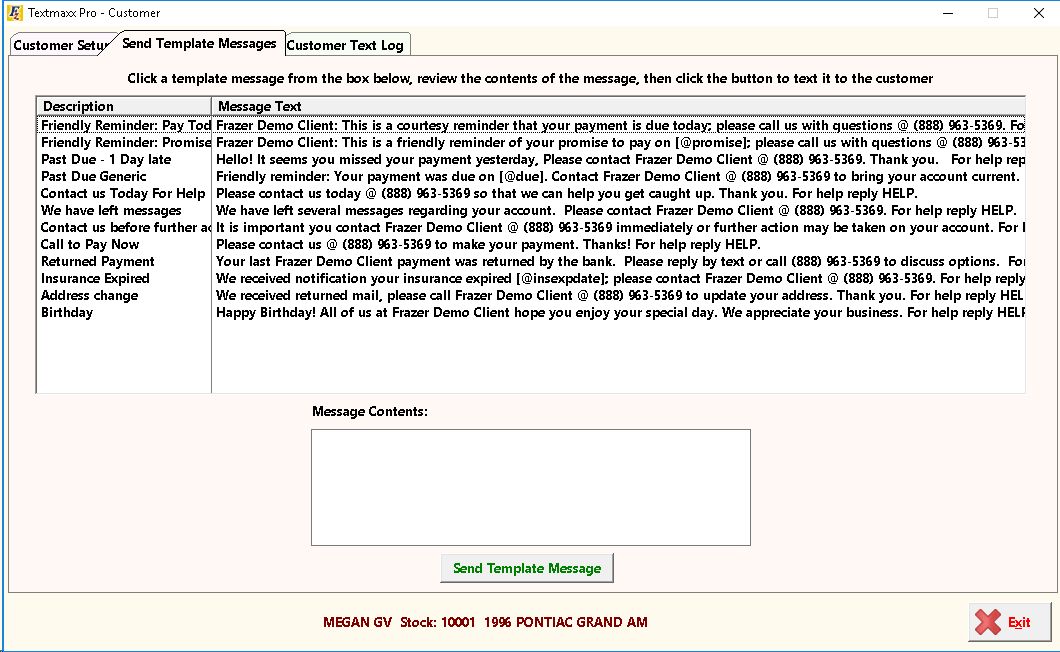 Note: Message contents are not editable from this screen.

Customer Setup Options tab
The customer setup tab will enable you to view the customer's cell number that you have on file as well as enable you to set up the types of texts you would like the customer to receive.
Customer Text Log tab
The "Customer Text Log" will present a detailed listing of all previous texts sent to the customer as well as give you the ability to send a custom text.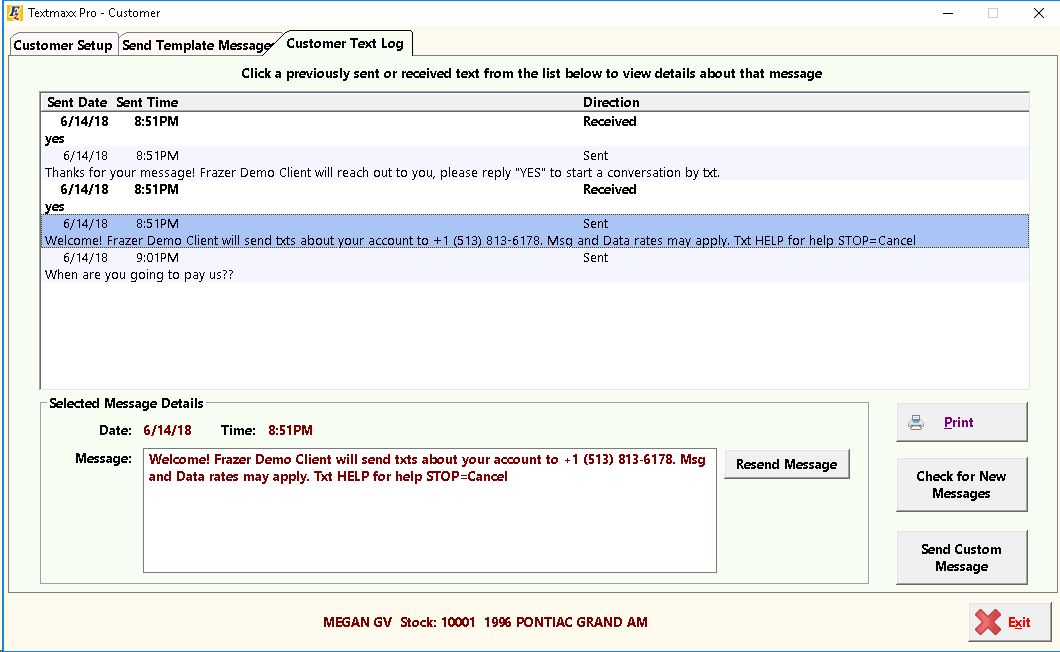 Note: Due to compliance issues, Frazer strongly suggests refraining from sending custom texts without input from your texting provider.

Text Icon at the top of Frazer.



Anytime a customer responds to one of your text messages, the icon at the top of Frazer will illuminate. Clicking the icon will present you with a list of received texts.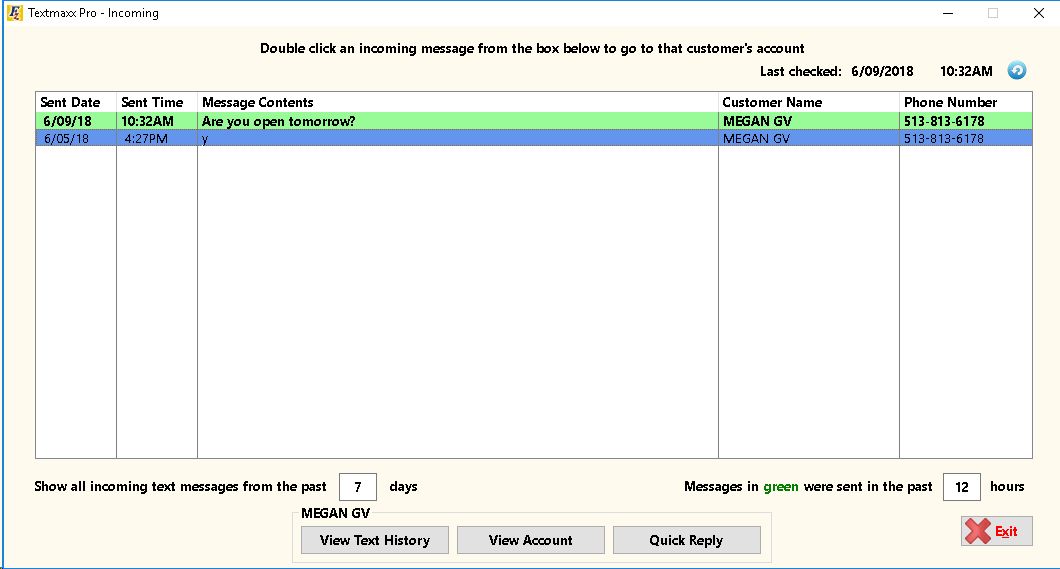 Icon color key:
•If the icon appears GREYED out or BLACK then there are no pending messages.
•If the icon appears GREEN then the dealership has received some texts from customers.
•If the icon appears RED then there is an issue with Frazer's connection to the text provider's servers. (Typically indicates an issue with the internet or firewall.)
Form Requirements
Both vendors provide forms for marketing message consent. Click on your respective vendors to view each form:
Additionally, the Frazer Retail Installment Contract also includes language under the Terms & Conditions regarding receiving account information via text.
Customer Opt-outs
From time-to-time customers may opt-out. It's important to respect a customer's wishes in regards to communication. Ignoring a customer's request to opt-out of text communications can lead to steep fines and/or legal penalties.