1.Change or Fix an Existing Form
The Forms Department can often make changes the wording of a form or the way that it looks.
Note: There are forms that we cannot change. Legal reasons may prevent Frazer from changing a form. If you have any questions about a form you'd like changed, don't hesitate to contact Frazer at 888-963-5369.
Click Change or Fix an Existing Form to continue. The following window will come up: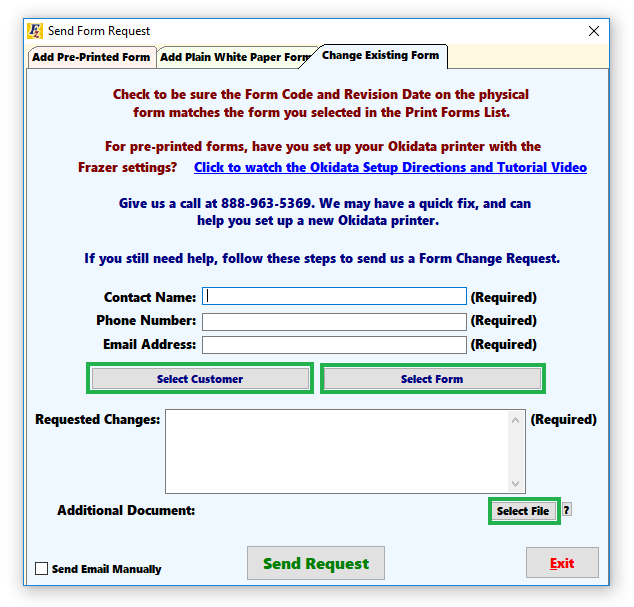 Next, Enter a Contact Name, Phone Number and Email Address.
Enter in any extra information you'd like the forms department to have in the Additional Comments area.
For example, you may want to be prompted for specific areas on the form.
The Select Customer button allows you to select the customer for whom the change is request. Note that you must select a customer. If you wish to have this change apply to all customers, select a customer and type 'Please apply these change to all printings of this form' in the Requested Changes field.
The Select Form button allows you to select the form that you would like changed.
The Select File button allows you to attach an Additional Document to your FCR. For example, you may draw or write on a copy of the form you have printed to illustrate the changes you would like to see made to the form. These can be very helpful to the Forms Department, and can help them create the form as you desire it more efficiently.
Click Send Request to submit the file to the Forms Department electronically.
Upon receiving the request, the Forms Department will get to work - this process typically takes one to two business days.

The Forms Department will send an email instructing you to run a version update in your Frazer software when everything's ready to go. This will add the form into your Print Forms library.