1.Add a New Plain White Paper Form
Plain white paper forms are those forms that come out of an inkjet or laserjet printer onto blank paper. White Paper form programming requires you to submit a text-editable version of the form you would like to have printed. Acceptable formats include Word documents and text-editable PDFs.
Formats we cannot use : Photos, scans or PDFs that are not text-editable.
If you are obtaining the form from a third party, make sure they get you the right file type.
If the form you submit is deemed to be of uncertain legal validity, you may be asked to sign a Hold Harmless agreement. This affirms that you will not hold Frazer Computing, Inc. responsible for any challenges resulting from the use of that form.
Should you create a form that too closely resembles a form that is the property of a third party, Frazer may require the express written consent of that party to program the form.
Click Add a New Plain White Paper Form to continue. The following window comes up: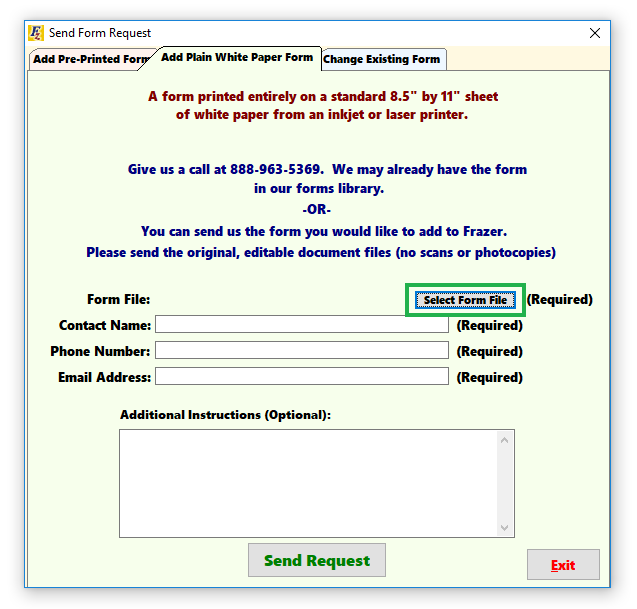 First, attach your text-editable file using the Select Form File button.
Next, Enter a Contact Name, Phone Number and Email Address.
Enter in any extra information you'd like the forms department to have in the Additional Comments area.
For example, you may want to be prompted for specific areas on the form.
Click Send Request to submit the file to the Forms Department electronically.
Upon receiving the request, the Forms Department will get to work - this process typically takes two to three business days.
The Forms Department will send an email instructing you to run a version update in your Frazer software when everything's ready to go. This will add the form into your Print Forms library.