Before printing from Frazer, the default printers for the program must be selected. Go to

>> 1 - System Options >> 6 - Printing Options. Click on the button to Set up which printers to use on THIS computer.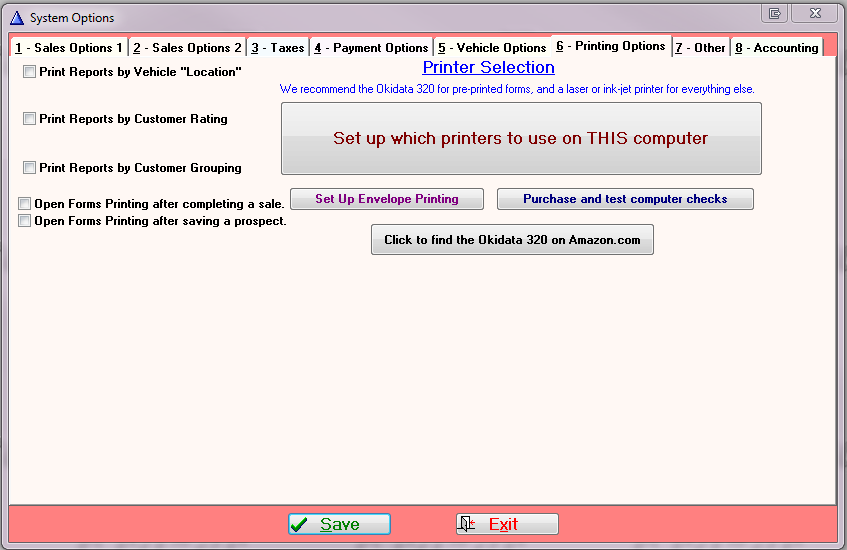 ---
For each section, select the correct printer type. Because Reports, Letters, and Labels, as well as Receipts and White Paper Forms and Envelopes are most commonly printed to office jet or laser jet printers, All Other Printers is selected. Choose the appropriate type of Okidata printer only if printing to the Okidata dot matrix printer (please note that PDF documents will not print from dot matrix printers).
If the printer you have selected is showing in Red, it may be offline. Troubleshoot your printer as you normally would.
---
To select the default printers for the first time or to change printers in the future, click on the Set Up White Paper Printer button or in each of the other sections in each section.
If you use a different printer for Checks and Envelopes printing, you can select that here as well.
---
Click on the drop down arrow next to the printer name and select the appropriate printer from the list of available printers connected to your computer. If you do not see the printer you wish to select, be sure the printer is on and connected to the computer or network properly. Be sure to select a printer for all four sections of this screen (even if you do not use pre-printed forms, a printer must be selected.)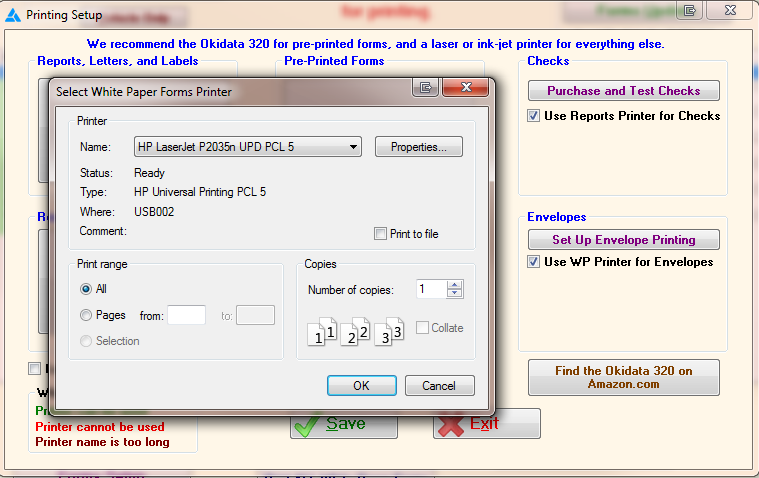 ---
Once all printers are selected, be sure to click
before exiting this system option.
---
See Also:
▪Checking Your Printer Settings