Many dealers offer their customers service contracts or extended warranties for a additional fee at the time of sale. Frazer has made it easy to both enter the price of the service contract as well as the cost and duration.
If you would like to start every deal with a default Service Contract price (and cost to you) you can set a default in Miscellaneous>>1 System Options>>1 Sales Options 1.
You can also tell your Frazer system to charge tax on the price of the service contract if applicable in your state. To enter a default cost click on "Default Dealer Costs" and enter your cost.
If the cost to you varies between individual sales and you would prefer to enter it on a sale by sale basis or if the cost is different for a single sale, you can adjust the cost on that sale in the dealer costs tab as you are entering the sale.
You can also determine the term that will print on the service contract by entering the months and miles here. If you forget to add the cost or duration of the service contract and complete the sale without these terms or need to correct them at a later date by going to Customers>>1 Customer Activity>>B Customer Processing>>A Customer Information and Costs>> Dealer Costs tab.
Frequently, lenders or Retail Installment Contracts will require you to include the company that is backing the service contract and dealers may work with several providers to provide a variety of plans for their customers. You can store the information for all of your service contract providers in Sales>>C-Service Contract Providers and they can be assigned on the dealer costs tab of the sale or you can have your Frazer system prompt you to add the provider by checking the appropriate box in Miscellaneous>>1-System Options>>2-Sales Options 2.
If your service contract provider has specific forms that they require be completed call your Frazer support team at 888-963-5369 to see if these forms are already available to be added to your Frazer system. If we do not have the forms, then we can program them for you.
Service Contract Integrations
Frazer works directly with a handful of companies to directly sell service contracts. These companies include Alpha Warranties, AUL Warranties, ASC Warranties, Preferred Warranties and F&I Express.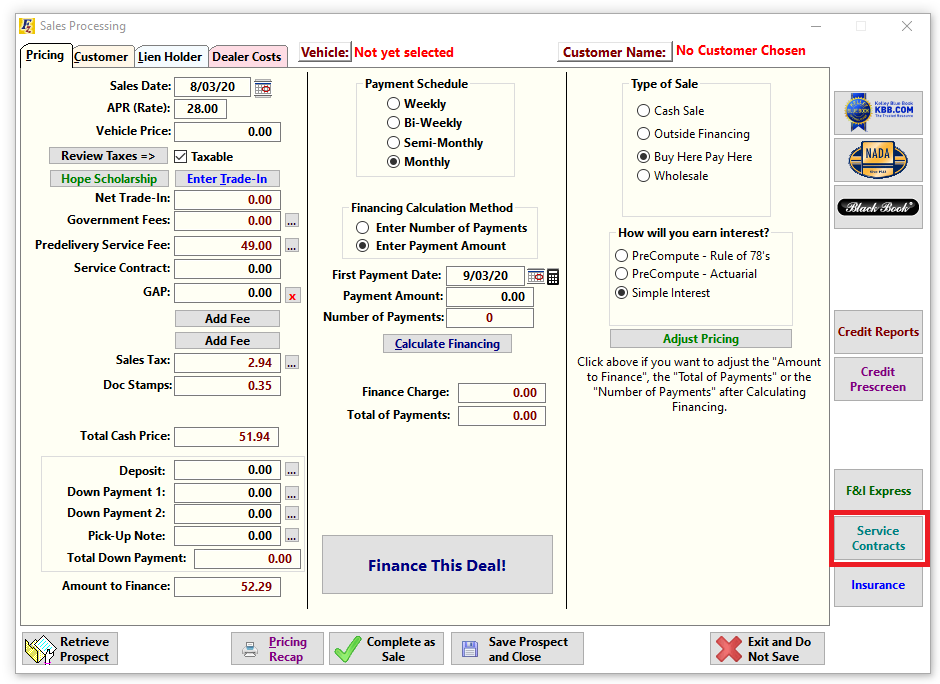 Each of these companies has worked with Frazer to export deal information from a Frazer sale to the company's respective website (or portal) in order to prevent data double-entry and make the sales process more efficient. If you are interested in working with any of these companies Frazer provides a link directly to that company's home page. Once you have selected a company to work with they will provide you with credentials that may need to be saved in Frazer.