The "Sales" tab of the vehicle file contains information that may appear on your website, a price list, or even the window sticker for your inventory.

Click on the image below to learn more about the various terms and items on this tab.
The price for which your inventory will be listed on the lot.
The internet price is often a calculated amount that totals the internet price plus your default document prep fees (Dealer Service Fee). Some states require by law that this price be shown in online advertising. The system option for inclusion of the document prep fee is located in Miscellaneous - System Options, Sales Options 1.
The price you would wholesale a vehicle for. (Some dealers will use this field for "Trade Value.")
You can enter a third suggested price in this field, or perhaps use it to enter a "code" for the cost of the vehicle. This information can print on the Price List without a heading. An example code might be entering 37, if your cost is $3,700. When you see the 37 on the price list, you will know that the cost is actually $3,700.
For buy-here pay-here deals you may use this field for minimum down payment requirements.
Weekly / Monthly Payment and "Payment Details"
For buy-here pay-here deals you may use these fields weekly and monthly payment estimates. This information can be printed on a vehicle's window sticker. Additionally the "payment details" button is in use for putting down the stipulations regarding these figures' calculations.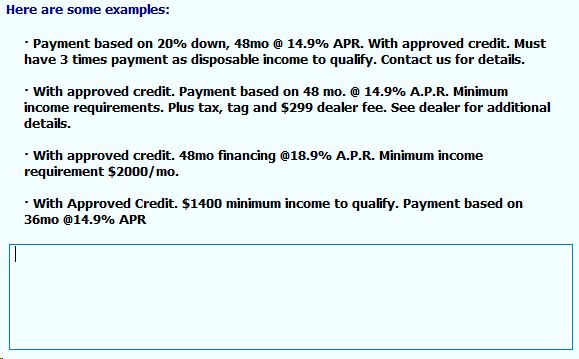 This is the date the vehicle arrived at the lot.
You can enter the original manufacturer's retail price here. (Requirement in some states.)
Vehicle Display Page. The URL for this specific inventory page on your website.
The URL for a virtual demo of the vehicle (typically a YouTube link.)
Typically this list will come from the VIN decoder. But any features can be entered here.
Any marketing language you would like to include with inventory on your website.
How Do I Get There?
| | |
| --- | --- |
| • | Click on Enter Vehicle BUTTON. |
| | |
| --- | --- |
| • | Click on Add Vehicle BUTTON or select an existing vehicle from inventory. |